After receiving this stellar review on Saturday, I was thrilled to learn that the readers at Fresh Fiction chose NORTH OF NEED as their Fresh Pick of the Day!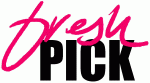 January 16, 2012
The Fresh Pick is chosen by a group of readers and is never a purchased advertisement or promotion. We've picked this book because it appeals to us and we like to share our diverse tastes in reading and hope you'll give it a try.
And this comes right on the heels of the fantastic news that I can indeed confirm an April 2012 release date for Book 2 in the Hearts of the Anemoi series, WEST OF WANT! Woot!