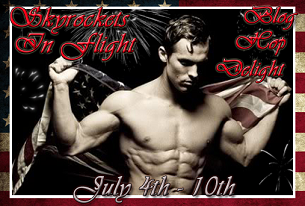 In celebration of July 4th, American independence, apple pies, and stunning man chest, I'm participating in the Skyrockets in Flight Blog Hop Delight this week! Thanks to JoJo, Tigris, Danielle, and Bells for organizing this great giveaway event!
How it works:
Visit and comment on as many of the below blogs as you can to enter to win great giveaways. International commenters are welcomed on my blog but are eligible for the ebook part of the giveaway only for this particular event; otherwise, my giveaway is open to U.S. and Canada.
To enter MY giveaway, this is what you have to do:
1) Comment on this blog post with your email address (required) AND




3) For an extra entry, also follow this blog
One commenter/twitter follower will WIN:
1) Your choice of one of my ebooks, Hearts in Darkness (contemporary romance) or Forever Freed (paranormal romance) AND

2) A package of swag including coffee mug, pens, bumper sticker, signed romance trading cards, and whatever other goodies I find to throw in!
3) If
I receive at least 25 comments on this post (not including me!), 20 new twitter followers from the blog hop, AND 5 new blog followers by midnight EST on July 10 (July 3 numbers are: 872 twitter followers, 270 blog followers), I'll add a
SECOND
winner who will get a choice of one of my ebooks (above) AND choice of one item from my
CafePress store
!
Now I'm thinking of a THIRD giveaway to add...

SEE? The more you visit and comment, the more you're likely to win! So visit all the links on the list and have a great 4th of July week!

What to comment? Either share what you're currently reading OR share an interesting July 4th memory! (Comment link is at bottom of list...)
Thanks for reading, and good luck in the giveaway!
Laura